St. Louis T-Bone Car Accident Attorney – Missouri Side Impact Injury
St. Louis T-Bone Car Accident Attorney
The risk of injury in T-bone and side-impact collisions is higher than many other types of car accidents.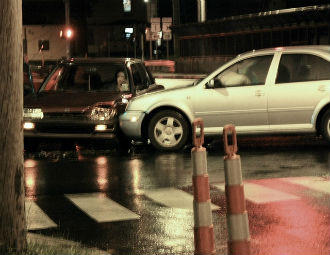 Side-impact collisions — also known as T-bone accidents — occur when the front of a vehicle collides with the side of another. T-bone accidents can cause significant damage to vehicles, and they often result in severe injuries to car drivers and their passengers. Speak to an experienced St. Louis T-bone car accident attorney today if you or a loved one was seriously injured in a side-impact collision in Missouri or Illinois.
Injuries From T-Bone Car Accidents
The risk of injury in T-bone and side-impact collisions is higher than many other types of car accidents. One or both cars are typically traveling at a high speed, causing the impacted car to spin or rollover, strike other cars, or strike objects and even nearby pedestrians. Occupants of the impacted car often suffer serious injuries from the side of their car being crushed into them, the car rolling over or subsequent collisions with other cars on the road.
This type of accident often occurs as a result of a driver running a red light or failing to stop at a stop sign. This generally happens because the reckless driver is impatient or not paying attention. It may also be the result of a drunk driver.
Car accidents occur for a wide variety of reasons. Some of the most common causes of T-bone accidents include:
Driving too fast for traffic conditions
Making a left turn
Running a red light
Running a stop sign
Attempting a yellow light
Pulling out of a parking lot
Inadequate or improper braking distance
Distracted driving
Texting while driving
Failure to signal
If you have been injured in a car accident due to the negligence or recklessness of another driver, contact
The Hoffmann Law Firm, L.L.C.
at
(314) 361-4242
. We have represented car accident injury victims for more than 15 years. We will carefully listen to your situation and immediately begin investigating your claim. We will analyze police reports, medical records and utilize crash reconstruction experts to put forth a strong case aimed at maximizing your compensation. You will not pay attorney fees unless we recover compensation for you.
photo credit: versageek